CONCEPT
Since 2006, the stars Who's who is the 50 Minutes Inside show.
50 Minutes Inside reports on the life of stars featuring the stars' police or the stars' planet. Every Summer, the show offers major reports.
"Louane le succès de l'année", "Dans le secret de Johnny Hallyday, a star, a story", "Johnny Depp", "Rihanna la folle année » …
PROGRAM
Airing time : Every Saturday at 6pm
Broadcasting Channel: TF1
Presenters: Sandrine Quétier and Nikos Aliagas
Producer : TF1 Prod
Format: 100 minutes
VIDEO
HOSTS
Nikos Aliagas returned to present 50'Inside in January 2007, following Guillaume Lacroix. He hosts the show together with Sandrine Quétier.
A bubbly and humorous duo.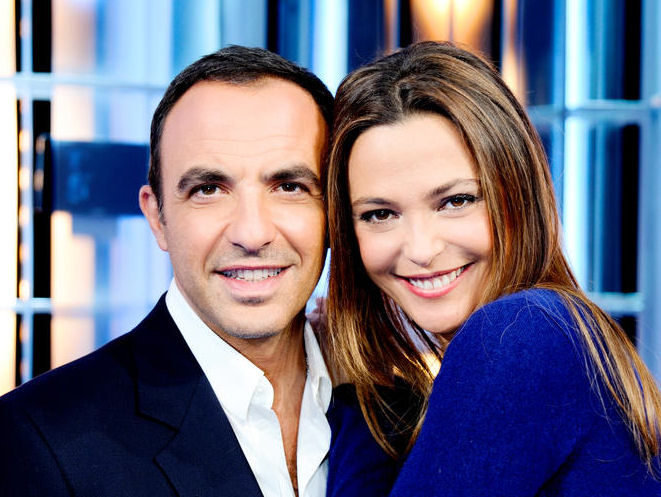 Nikos Aliagas
Nikos began on radio at "Radio France Internationale" and becomes a journalist later on for Euronews from 1993 and 1999.
He became known to the public when he presented the new TF1 show "Star Academy". Succes made his career take off.
Since January 20th 2007, he hosts "50'Inside" with Sandrine Quétier. On March 27th 2007, he was made Chevalier de l'Ordre des Arts et des Lettres by the culture Ministre Renaud Donnedieu de Vabres.
In October 2007, he interpreted a cover version of l'Envie d'aimer. He then produced an album of song covers named "Rendez-vous" (including duos with Nolwenn Leroy, Paul Anka, Souad Massi, Murray Head, Leonard Cohen's son and Greek singers such as Elena Paparizou, the winner of the 2005 Eurovision), only available in Greece. He regularly sang on stage to support the charity "Tout le monde chante contre le cancer".
In August 2009, following a temporary stop of Star Academy, Nikos decided to join NRJ and present the morning show "le 6/9". He hosted the morning show beside Mustapha El Atrassi and Florian Gazan.
However, he continued presenting "50 minutes inside on TF1 and the "NRJ Music Awards" which he still presents since January 2009. He also hosted a few big prime time shows as well as "Ca donne envie" on LCI. In September 2009, he replaced for a few days Benjamin Castaldi for the presentation of "Secret story 3".
In December 2009, he presented "Le Grand Duel des Générations" and the revue "120 minutes Inside" with Sandrine Quetier, two programmes broadcast in prime time on TF1. On December 1st 2009, he was live from Los Angeles on TF1 news to give a report about Johnny Halliday.
In April 2010, he presented live the last of the show "Papa est en haut" of Gad Elmaleh.
From August 23rd 2010, he presented "Le 6/9" of NRJ where this time, he was accompanied by Mustafa El Atrassi and Karine Ferri who replaced Florian Gazan dismissed by Radio 13. On October 16th 2010, he presented live the last show "Il était une fois…Frank Dubosc de Frank Dubosc".
.
In April 2011, he dubbed the character (Flamenco) in the film "Rio" beside Karine Ferri and Nicolas Richaud. On June 30th 2011, he hosted the last "6/9" show on NRJ. In September 2011, he was on the team of Bruce Toussaint on Europe 1 radio. He presented a culture revue "Culture" from Monday to Friday between 8.30h and 8.45h. Passionate for music and quite a good singer, Nikos enjoys going on stage and sings along with his friends in the group "Bazooka Mandarine" for cover songs (at the Petit Journal Montparnasse in November 2010 and June 2011).
In July 2011, he presented a special show dedicated to the wedding of Prince Albert of Monaco and Charlene Wittstock on TF1 with Jean-Claude Narcy, Sandrine Quetier, Denis Brogniart and Jean-Pierre Foucault. Since October 10th 2011 he presents the programme "C'est Canteloup" after the 20h news on TF1, a programme where the day's events are spoofed by Nicolas Canteloup as impersonator.
Since February 25th 2012, has been presenting the talent show "The Voice" on TF1, the most beautiful voice with Virginie de Clausade, then Karine Ferri from Season 2.
In September 2012 he hosted his cultural revue on the week end morning show and no longer on Europe 1 radio during the week. In September 2013, Nikos Aliagas had a postage stamp with his portrait attributed in Greece.
From September 2014 he presented on Europe 1 the programme "Sortez du Cadre" on Saturdays from 11.00h to 12.30h.
In September 2016 he started presenting an hour show interview with a guest during the week from 15.00h to 16.00h on Europe 1 radio.
Then and since July 11th 2016, Nikos has been hosting the new 5 min revue "19h Live".
SANDRINE QUETIER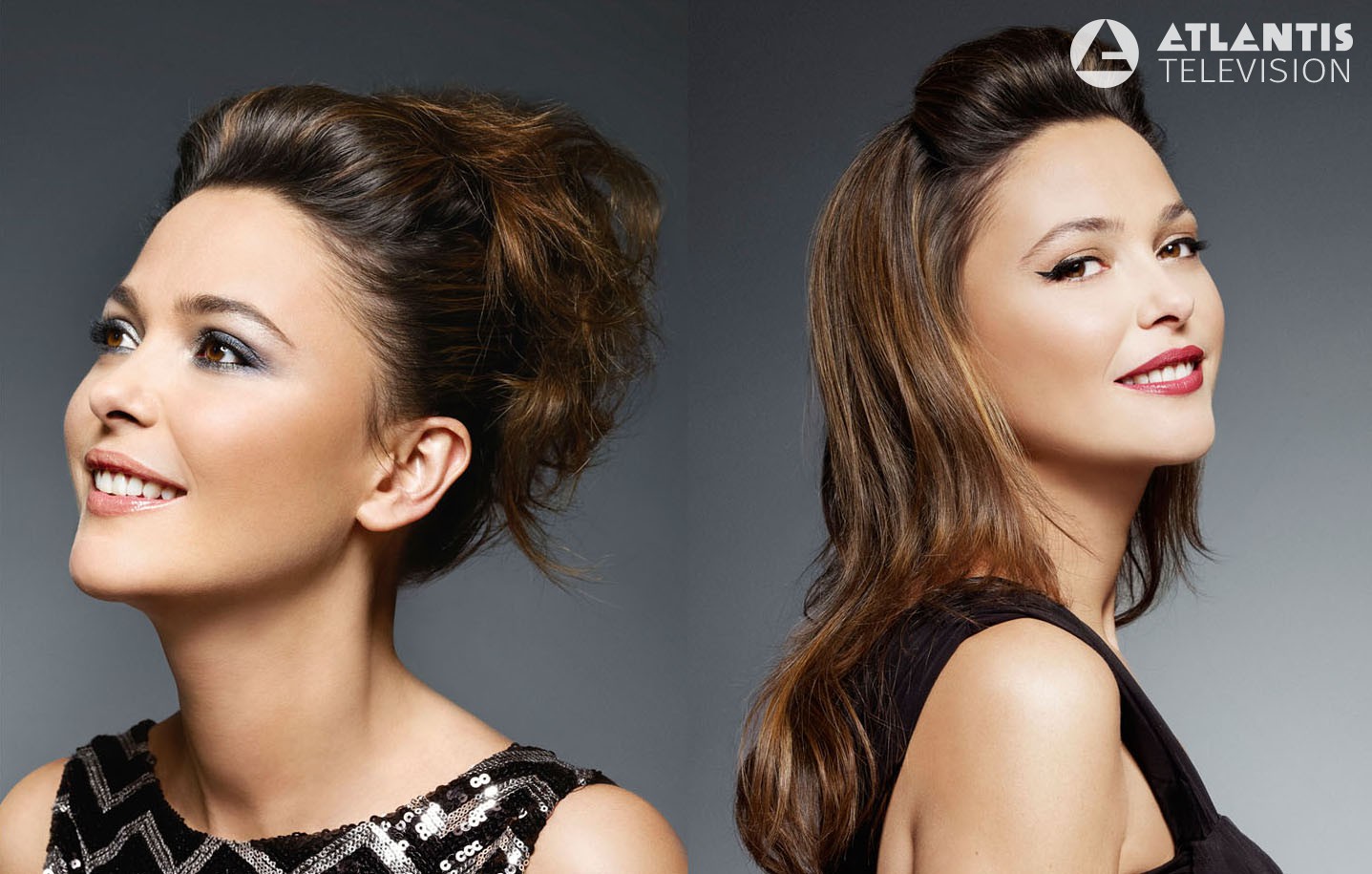 Since November 2006, she co-hosts "50' Inside" every Saturday night from 18.50 to 19.50 on TF1 with Nikos Aliagas who followed from Guillaume lacroix.
Since September 2006, she is also the French presenter of E!Entertainment, the Hollywood channel on Canal Sat. she hosts live all big events for cinema and TV (Oscars, Golden Globes, Festival du Film Américain de Deauville, Festival de Cannes…) as well as weekly programmes of the channel and special shows.
Sandrine Quetier also co-hosted on TF1 the December 31st evening: "Les enfants du 31" with Arthur in 2006 and 2007, then "Les 100 plus grands… du 31" with Christophe Dechavanne.
Every night of the week, at 19.45 and weekends at 20.10 she hosts "People E!News" on E!Entertainment as well as "50'MinutesInside" at 18.45 on TF1, a different version which deals with news of celebrities of the day.
Since 2008, she hosts "Du beau, du bon, du bien-être » on Odyssée every Saturday at 20.45. In 2013, the programme's concept evolved and became « Avis de Tendances » which is broadcast every Tuesday at 20.40 on Stylia. "Avis de tendances" is a 26 minutes' programme dedicated to lifestyle. Each week a cinema, fashion, music or food personality is invited to share their news and talk about their lifestyle. On set, Oscar Ono, ex expert of Queer, "Les experts dans le vent" describes the latest trends.
From November 2008 to December 2009, she hosted "10h le mag" on TF1 with Julien Arnaud.
In November 2009, she hosted "Le Plus Grand Quiz de France" on TF1. In December 2009, she presents two shows on TF1: "120 Minutes Inside" with Nikos Aliagas and "La Chanson de l'Année", a programme dedicated this year to the European Charity against leucodystrophy of which she is the matron.
Since 2009 she plays the role of Sandrine in the comedy capsule "Fritkot" broadcast on RTL-TVI in Belgium and on HD1 in France. Her character is a presenter on a French TV channel in Wallonia when she isn't in Paris, who has difficulties socialising with the village locals at the chip shop, being a snob and understanding nothing about their mentality.
In February 2010, she launched on Fridays a new interactive linked programme on TF1 "La Vie en face".
On February 17th 2011, she won "le grand Concours des Animateurs" on TF1.
From February 12th 2011, she hosts "Danse avec les Stars" with Vincent Cerruti.
In July 2011, she presents a special show dedicated to Prince Albert II of Monaco and Charlene Wittstock on TF1 with Jean-Claude Narcy, Nikos Aliagas, Denis Brogniart and Jean-Pierre Foucault.
She hosted alone a game broadcast on prime time on Saturday July 28th and August 11th 2012 on TF1 titled "Tout le monde aime la France.
On September 15th 2012, she won for the second time "le grand Concours des Animateurs" on TF1.
She participated to the whole of "La télé chante pour Sidaction" on France 2.
For several years now, the presenter hosts "Les Victoires de la Beauté" with Willy Mansion.