27 stops and 2 important crossings – 50000 KMS around the planet
ATLANTIS TÉLÉVISION AND YVAN BOURGNON, A LONG TERM ENGAGEMENT.
Atlantis supports the marine exploits of Yvan Bourgnon since over 2 years. It's an obvious sponsoring for the Group, between fundamental values, audacity, bravery, passion and the search of performance.
Atlantis and Yvan Bourgnon, one of the most authentic navigators and of the most impressive in the sailing competition, have already shared three great human adventures, technically different one from another, but all rewarding.
After having tried twice with talent but not enough wind, a first performance in 2013, the Corse tour record, Atlantis and Yvan launched themselves into competition by being on the starting line of every preparatory competitions for the World Championship, in the Nacra F20 Carbon category.
Today, it's still on the same little sport catamaran without leaving room or electronic instrument that we share this amazing human adventure. An impossible challenge that we named "a man on the sea"
On a 50000km course, he sailed only with his sextant, without any shelter to protect himself.
After a stop in Darwin, Australia, knowing he only had the Indian Ocean to cross left, to end 80% of his tour, his adventure stopped on August 1st in Sri Lanka, a few hundred meters from the Galle harbor.
This shipwreck marked the end of an episode, but not the end of the race. Yvan Bourgnon sailed the Route du Rhum, won the Jacques-Vabre and many other races at sea. It was impossible for him to admit his defeat so close to the end.
For the last episode of this fabulous world tour, he says he is really prepared and armed with a prepared boat, lighter and mightier to win the challenge.
We will be by his side all along those next 10 000 km of the race, and at the finish, of course, to applause him.
Yvan Bourgnon is the 2015 sailor for us
A HUGE CHALLENGE
Ouistreham Riva Bella, En avant toute, June, le Port de Caen, Le Club des Entreprises de Ouistreham Riva-Bella et Foward Sailing are partners to his challenge for the first world tour on a sporting sailing boat unlivable.
This unique challenge is taken solely by Yvan Bourgnon offers a 50 000 km course including 27 stops.
The course was marked by two great crossings: the Atlantic Ocean, from Canary Islands to Guadeloupe (2 weeks), and the Pacific Ocean, from Galapagos Islands to Marquises Islands (3 weeks).
After a shipwreck south of Sri Lanka resulting of a technical problem, Yvan will sail again in March to end this challenge and come back to the Normand coasts during June.
In short, this is an adventure never yet realized on such a little boat. Moreover, the sailor wanted to come back to the simple values of sailing, solely with a sextant (without GPS). The food will be lyophilized; a water maker will fabricate the water.
June 23rd 2015: the finish line!
On June 24th, 2015 at 11:30am, Yvan Bourgnon ends his trop in Ouistreham. The sailor, acclaimed by the public who waited on the docks, came back after 20 months of sailing. Surrounded by numerous boats that came to meet him, he does an honorary tour well deserved, for him who went against all odds to achieve his goal. At 1pm, he was entering the harbor, welcomed by Romain Bail, the mayor of Ouistreham Riva-Bella, and then his two kids went aboard his ship to meet him..
it's with raised arms that this victory marked this historic day for Yvan Bourgnon. A man in the sea, facing loneliness, on a 50 000 km course around the globe, sailing only with the help of his sextant, on a nutshell without any shelter to shield the oceans' risks…
Our hero succeeded in finishing an amazing challenge, going through obstacles that could appear insurmountable.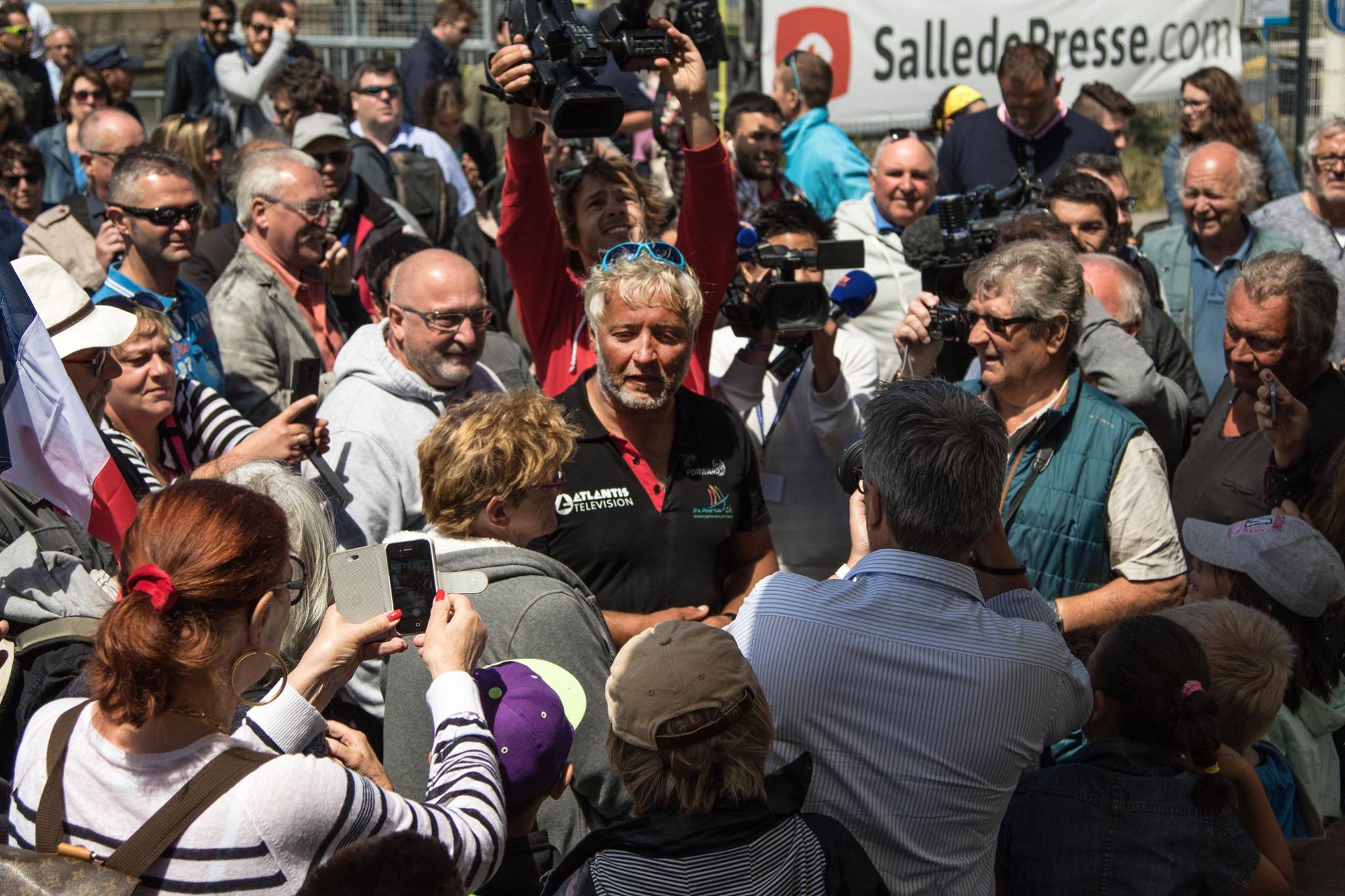 Photos D. Tisserand
PRESS IS TALKING ABOUT IT
RTL.fr on 23/06/2015 by FREDERIC VEILLE
REPORT – Gone since October 2013, the Swiss skipper finished on Tuesday, June 23rd in Ouistreham his World Tour on a sailing catamaran unlivable
it's with raised arms and a big smile on his slips that Yvan Bourgnon crossed the finish line on Tuesday, June 23rd, a little before 11am, in front of Ouistreham in Calvados.
Tired but happy, the skipper and his "Louloutte", name of his boat, have then gone through the canal and locks of Orne to be welcomed by a crowd, but also by his mother Suzanne and his close ones.
"I'm so afraid of it being finished that I already planned to leave three weeks on this boat with my kids
"Yvan Bourgnon"
I'm happy to be back, anyway I had to put a foot on earth, to see my close ones, and to share this moment with every nature lovers, he said. But I'm so afraid of it being finished that I already planned to leave three weeks on this boat with my kids this summer. But what's going to miss the most is meditation, silence, privileged moments we don't have on coast".
A true human and sportive exploit.