CONCEPT
"E=M6" is a French scientific show. The presenter Mac Lesggy has reached the highest audience record for the "oldest science programme in the French audio-visual landscape still running". The programme got the "7 d'or de la meilleure émission educative" in 2001. In November 2014, Mac Lesggy was celebrating the 800th episode of the programme.
The name of the show "E=M6" is of course a play on words on the formula "E=mc2" and the name of the channel M6. The programme touches on everything: nutrition, accidental inventions, sustainable development, OGM …
PROGRAMME
Airing Time: Every Sunday at 8:05pm
Broadcasting Channel : M6
Pesenter : Mac Lesggy
Producer : Link Production
Format : 30 minutes
VIDEO
Host
MAC LESGGY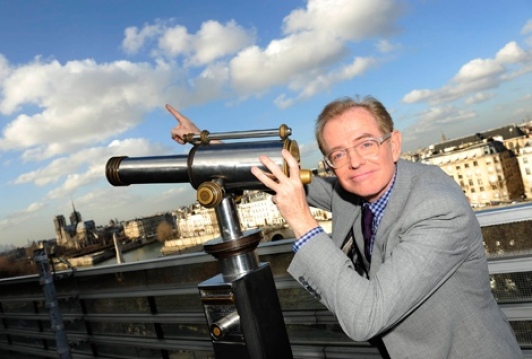 Olivier Lesgourgues, known as Mac Lesggy, is an agronomic engineer. He studied Art and Agronomics.
In 1990, he started his professional TV career. He created the project of a scientific programme which TF1 accepted.
Thanks to which, he hosted "E=M6"one year later, in 1991,
Simultaneously, Mac Lesggy has his production company Link Production, which produced "E=M6" and "New look for a new life".
His looks and demeanour make of him an unavoidable character.
NEWS
Sunday April 12th, Mac Lesggy returned with a new episode of "E=M6" with various documentaries:
– "Nos héros préférés ont-ils vraiment existé ? » (Our favourite heroes, did they exist?)
– « Cinéma, comment la technologie aide-t-elle à raconter des histoires ? » (Cinema, how does technology help us to tell a story)
– « Contes et Légendes : quels secrets nous cachent-ils ? » (Fairy tales and legends: what secrets do they hide)
INTERVIEW
MAC LESGGY EXPLAINS THE ORIGIN OF HIS PSEUDO
Does the unbeatable M6 Mister Science know himself? Here is the demonstration in front of a cup containing phenolic acid and 80mg of potassium; in other words, a coffee..
Voici: Twenty-four years for this show! Is it because the title has got numbers and letters that E=M6 has lasted so long?
Ah! Ah! A good title is essential, thanks to the channel who found it because my first idea was: Black Hole!
The next episode is about precocious youth…
We're trying to understand where it comes from. Is the brain more agile at 15? What are the differences between a child inventing something and one that doesn't?
Did you have any talent when you were a child?
I was really good at building Legos. I created suspended bridges several meters long. At the time, it was quite rare.
Could you remind us what "E=mc²" means?
E is energy; it's equal to the mass multiplied by the square of the speed of light, 300 000 km a second. It's in an atomic bomb and in a nuclear power plant that you see its most direct application.
Are you afraid of the nuclear?
Not that much. Civil nuclear plant has made fewer victims in half a century than charcoal mines in six months. I'm a man of numbers. Do you know how many people were killed directly by the accident in Fukushima's plant? None. And some think that there would be, at most, a hundred victims from cancer, that's all. It's a terrible catastrophe, but it has killed no one yet, when a gas blast provoked 30 dead in a mine in China, no one cares! You must have a balanced viewpoint.
What fascinates you the most: the hygiene of French people or how a volcano works?
I love volcanos and I have some really good memories of two still active volcanos. On Etna, we were supposed to climb on a path we couldn't find, and we found ourselves in a corridor of plants which were on fire. It was dangerous but we got out.
To help science, you also were on a catwalk in a fashion show, on high heels with Cristina Cordula…
Yes, we shouldn't fear ridicule. I haven't been afraid of it for a long time now. If it makes you laugh, all the better, and if it helps you understand things in a simple way, it's even better.
Does your practical mind help you in your daily life?
Yes. For example, I have a yogurt machine. The other day, I was taking my yogurts and saw they were all stringy! I instantly went on the Internet, and read that yogurts are sensitive to vibrations. So I realized it was because of the dishwasher underneath the worktop.
Oh… Yes, of course. Are you a good cook?
No, I'm bad, but I'm starting to know how to make yogurts. Actually, I have to do them at night so that nothing moves in the kitchen.
Single father?
Yes, so on weekends, I take care of my children.
Do they have Lesggy as their last name?
Oh absolutely not, I took an alias because, after the six episodes sold to M6 in 1991, I thought I was going to go back into anonymity and I didn't want it to be associated with me…
Did you choose Mac because of the computers?
No, back then I was a fan of Scotland. I had a tartan and a kilt that was custom made from Edinburgh. It was really nice to wear on a walk. I wore it often, but now I wouldn't dare: with the glasses, it would be too much. I gained some weight, and I think there are moth holes in it…
You're also a juror of "My home is the most original in France". What is your home like?
Being a Parisian, is accepting to compromise on the surface, but I'm really sensitive about my home. I drew the plans, measured my kitchen for it to be practical, but it's a fairly standard flat. May be one day, when I'm retired, I'll build an avant-garde house in the woods, I'm thinking about it.
You have more articles in the Figaro than all of the left wing press. Is it a clue about your political opinion?
I make sure my political opinions never come out. Science is neither left or right wing; thank God!
Source : Voici