CONCEPT
A candidate is confronted by 10 questions before leaving the game. During his tenth and last question, and for this one only, the candidate can leave the game without answering, after hearing the question; but then he goes back to the lower level.
Each question has 4 suggested answers. If the candidate is in doubt, he can use up to 7 jokers and get help from an accomplice named "the last joker". Each joker, including the last one, offers help on the answers and adds 15 seconds to the answer time. The 7 first jokers delete one of the wrong answers given by the candidate (he has to point out the four, three or two answers that trouble him). The jokers can be combined (the candidate can use 3 jokers to point out the 3 wrong answers to a question). The "last joker", which is the opportunity to discuss with an accomplice, is authorised after the use of the 7 first jokers but before the 10th and last question.
Each right answer gets the candidate to the next level of winnings. A wrong answer and he loses 3 jokers or, if there are no more, he goes back to the lower level.
To answer the questions, the candidate is limited in time: 30 seconds for the first 5 questions and then 60 seconds for the following five.
The public can play live via a free application, and someone can share the winnings of the candidate.
PROGRAMME
Airing Time:From Monday to Friday at 6:15pm
Broadcasting Channel : France 2
Presenter : Olivier Minne
Producer : Hubert Prod
Format: 35 minutes
VIDEO
HOST
Olivier Minne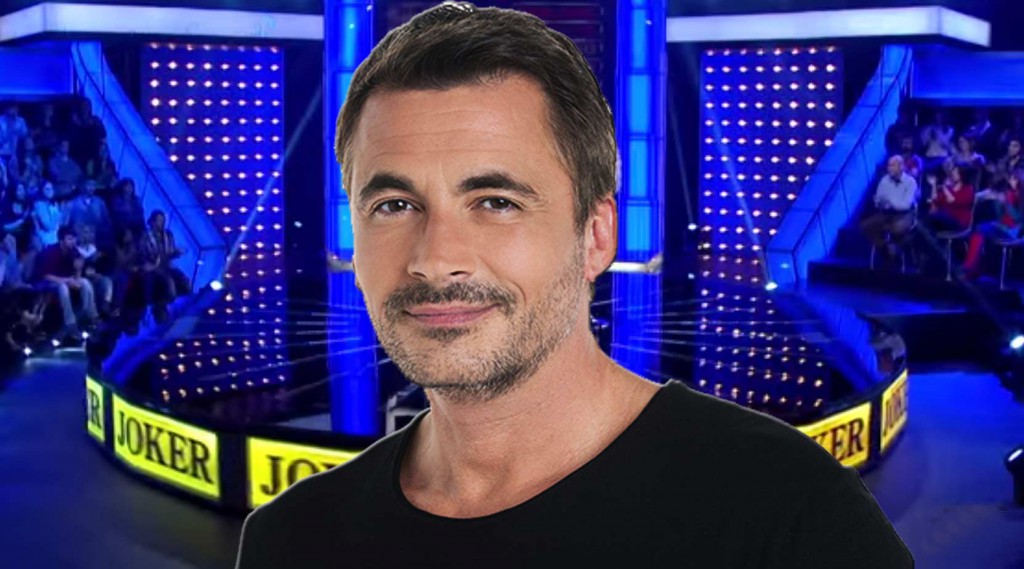 In 1991, Olivier Minne started his career hosting the college shows of CNDP on FR3, which had as a goal to analyse TV images and give young students the necessary tools to watch television with understanding. Dominique Wolton, researcher at the CNRS and media specialist, gave on set his outlook and analysis of the impact of images, their strengths and weaknesses, and the importance they could have on a political, cultural and society prospective. Still in 1991, Agnès Vincent, responsible for youth programs on Antenne 2 and FR3, offered him to host successively "Les Mondes Fantastiques" from 1992 to 1994 on FR3 and "Génies en Herbe" also on FR3.
After his first shows, Olivier Minne's career took off in the middle of the 90's.
Monique Cara scouted him and gave him a job as a journalist-columnist in the show "Matin Bonheur", on France 2 until 1994, a show he will host between 1994 and 1996. In 1996, simultaneously with his Parisian activities, he shot in Belgium for a season, on the channel RTL-TVI, a monthly show of entertainment in prime time, "7e ciel", produced by Marc Nivesse.
Olivier Minne started for France 2 with three editions of the Eurovision song contest: in 1995 and 1997, live from Dublin and in 1996 live from Oslo.
During the summer of 1997, he hosted with Jean Riffel the entertainment game "Jeux sans frontieres", which signed his return to France 2. In Autumn, he hosted and coproduced "Le cercle des métiers" on the same channel.
The following Summer (1998), he became the host of "Nouveaux Mondes" a show about adventure and scientific exploration.
After a big exposure on France 2, he relegated to less important channels.
From 1999 to 2002, he hosted special shows dedicated to cinema on 13e Rue. From September 2000 to June 2001, he hosted with Elizabeth Tchoungui, the cultural programme"Les Ecrans du savoir" on La Cinquième.
Oliver Minne's career took off again during the years 2000.
In January 2002, the game Pyramide disappeared from the screen for a few days, and then came back. Olivier Minne became, with Pierre Galibert, "Maître Mot". They took the place of Claire Gautraud and Jérôme Tichit, when Marie-Ange Nardi replaced Patrice Laffont as host of the game. The new show didn't please the audience, and Minne and Galibert were out by June 2002.
From January 2003 to July 2006, Olivier Minne hosted the game "La Cible" on France 2. He hosted "Fort Boyard" from July 2003. He co-hosted the game with Sarah Lelouch from 2003 to 2005, and then with Anne-Gaëlle Riccio between 2006 and 2009. He is hosting the show alone since 2010. Olivier Minne participated in the game as a candidate in 1995 and 1997, and then in 2008 in the Belgium version of the game.
In 2007, he created his own production structure, Olivier Productions. For France 2, he produced some theatrical pieces and programmes.
From September 4th 2006 to March 2nd 2007, he presented a daily show at 6pm on France 2 "Un Monde Presque Parfait", an entertainment show with humour based on televisual archives.
From Monday September 3rd, he hosted "60 secondes du Colisée" on France 2 at 6pm, which will become "60 secondes pour rire" from Wednesday September 12. After some bad daily rankings, France 2 stopped the show on Friday September 28 2007.
In 2007 and 2008, he hosted several shows on the first part of the evening on France 2, like "Les femmes à l'honneur", "La fête de la Musique" during three years co-hosted with Helena Noguerra or Daniela Lumbroso, shows in memory of Pascal Sevran and Jacques Martin all the while pursuing in his role as a Master of Fort Boyard
From September 2008, for an unknown reason, France 2 didn't give him any shows except for Fort Boyard, and he was seen presenting shows on TF6. He participated to "le Grand Concours des animateurs" on TF1 on September 26th, 2009 during which he finished fourth. He was candidate again in the shows of September 17 2011 and February 20, 2015 but was eliminated at the first round.
He also hosted "Mercator", a Belgium show on RTBF. He came back on France 2 during the Summer 2010 with a new version of Fort Boyard.
From November 2010, Olivier Minne has a new show on France Televisions. He hosted two new entertainment programmes on France 3: "Toutes les idoles que j'aime" (dedicated to great celebrities of the 60's) and "Ma ville en rire" (a show around laughter and in different cities in France). He also takes back the show "Tous vos amis sont là", after Stéphane Bern.
Because of France Televisions refusing hosts to work on different channel from the group, Olivier had to choose between France 2 and France 3. Despite numerous shows offered on France 3, he decided on January 14th, 2011 to stay on France 2 because it was the original channel and it answered his inspirations as a host.
Olivier Minne continued hosting Fort Boyard in 2001 for the 9th consecutive year. On November 12, 2011, he hosted "Dans les coulisses du show", a variety show produced by Be Aware in which we discovered what happens backstage.
In October 2012, he came back in a duo with Virginie Guilhaume to host the "Concert pour la tolerance" in Agadir.
While he was only hosting Fort Boyard, Olivier hosted on June 29th, 2013, for the first time Intervilles with Nathalie Simon and Tex as a referee, a unique prime time celebrating the 50th anniversary of the game.
The game Pyramide came back during the Summer 2014 with Olivier Minne as the principal host. The announcement was made in the talk show "Touche pas à mon Poste" on D8. A pilot was realized at the beginning of March 2014. The Starling Company, which belongs to the group Sony Pictures Television, produce this new version broadcast during the Summer 2014. The game didn't come back in the Autumn, but from November 1st.
Since February 16th, 2015, he is hosting the game Joker at 6:15pm on France 2.
INTERVIEW
Amazing situation: you succeed yourself tonight with "joker"!
It's true. It's the first time in 26 years that I'm replacing myself. It's quite surprising but that's it.
"Joker" is as much a game as a comedy show. What's the concept of Joker?
It's a quiz that works on the principle of ten questions to ask a candidate, who cannot leave the game even if he gives a wrong answer. We give him seven jokers at first to help him, and there's a ladder of winnings that goes from 0 to 50 000. The goal is to obtain the 50 000€ but more than that it is to stay there, you can reach the top with only 6 questions, but there are 10 mandatory questions. You can stay there with jokers, and the last joker is a person who has accompanied the player. The only thing is, if the candidate doesn't have any more jokers, and gives a wrong answer, he is penalised by going down 3 steps on the winnings ladder. There is a note of hope that continues until the end of the show. But it's as much a game as it is a comedy show.
Viewers can also play via an application on smartphones, but also with the usual voice calls and texts, to try to win half of the winnings each day.
So it must be a bit of an "Olivier Minne show"?
I don't know, in any case, what is sure is that it's a fantastic playground. It's a games area in which I can be totally myself, like in "Pyramide" and "Fort Boyard". But it's also true that the format allows me to enjoy myself and be completely mad, as I can be. Whether you like it or not, it's another question. But I felt really free.
"Pyramide was neither a success nor a failure". Do you have a ratings objective? The slot has been hard to fill for a number of years.
The slot isn't simple; it's true. For me, they did not give me an audience target and there is no pressure in that regard. The goal is of course to attract some more viewers because it's a critical time for the channel. But, personally, I had no particular aim. Thereafter, when a TV show is made, the goal is for it to be watched. But France 2 is prepared to give us time, and we have until June to prove ourselves.
Since the beginning of January, "Pyramide" in the same slot drew around 773 000 viewers and 5,2% of the public. Are you disappointed?
No, I'm not disappointed. First, it worked well during the year end vacations and then the ratings were hit by the terrorist attacks, which is totally understandable. After those tragic events, we had some good phases on the set, and we got back bit by bit. Finally, in percentage terms, we doubled what France 3 does at the same time, even if it's still a bit weak. And we knew from the beginning that "Pyramide" would only run for 6 weeks. And today, a month and a half – without being off air – is short and insufficient to establish a rendezvous in a difficult slot. So, we can say that it's neither a success nor a failure. But "Pyramide" works great on Saturdays and will stay on screen until June. It's possible that we will be back on Sunday, during summer, but nothing is decided yet.
Is "Joker" the miracle programme to save the 6pm slot on France 2?
I can't say that because it would be hugely pretentious and really presumptuous. I really don't think so. We did everything we could so that the programme would be appealing, fun, and welcoming, with emotional moments, laughter and sometimes a little unrealistic… for a game show we broke every rule of the classical quiz, whether by the lighting…the large takes on the décor…. It's almost like a talk show.
"In Fort Boyard, we're going to have a new character to succeed La Boule"
"Will Fort Boyard" come back without surprise this summer. With you?

I haven't signed yet, but we are already working on preparing the new season so I think that I understood that I was part of the game. We are preparing some new different things, whilst keeping the essentials. We want to surprise our loyal viewers and attract new viewers who will stay. Finally, "Fort Boyard", is a show in constant evolution and it's sure that it's why there is no tiredness from me nor the viewer. So, unless there is a huge change, I should be there.
Last September, "Fort Boyard" was saddened by the death of "La Boule", already absent last season for health reasons. Do you plan on recasting his role?
Mister Boo, the strong man, won't come back anyway. I campaigned not to replace La Boule, but for someone to take back the place of the bad guy. In the storyline of "Fort Boyard" today, he is necessary. We need a prison guard identified as such. That would contribute something. I support this and I think we will go towards that kind of character.
"When you're no longer wanted, you're no longer wanted!"
You said in spring 2014 that the past 6 years were difficult for you, professionally speaking. It's ancient history now, no? We've never seen you so much!

And so, I'm not going to annoy many people: I will be on TV daily from Monday to Saturday, but that's it, there won't be any primetime shows except for during summer. It remains a reasonable presence compared to others who can be even more present. But it's sure that it changed a lot. There is the trust from Thierry Thuillier (president of France 2) who, against the general feeling on the market, decided to put me back on screen when others couldn't even imagine doing it. I hope to be as good as he trusts me to be.
During your difficult time, didn't you have the temptation to go on TNT, as Julien Courbet or Benjamin Castaldi did recently?
Even if I was tempted, the TNT channels weren't! There was a time when, when you're not wanted, you're not wanted. And, as my grandmother used to say, we can't make a donkey drink if it's not thirsty. So no, I didn't have the opportunity because nobody thought of it, it's as simple as that.
"It's thanks to me that theatre is back on prime time in the public service".
When you see the ratings of the last theatre plays on France 2, does it make you want to suggest some new ones to the channel?

I continued suggesting plays to France 2 during the time we talked about, when I was a bit on the sidelines. Of course, in such circumstances, even as a producer, it was hard to place projects. But now, even if it's not signed yet, I can tell you that we're working on a play by Feydeau, "L'Hotel du Libre Echange", with some presenters from the channel, for the end of the year. We started casting and, if we sign, it will be the opportunity to celebrate the 10th anniversary of "Le Fil à la Patte" and the theatre comeback on television.
I do not say this often, but I am the one who brought theatre back during prime time on the public service channels. I'm very proud of it!
Lastly, during spring 2014, you declared that we would find you on the INA website. Did you tell them that in the end you would be on France 2 too?
Well, I still have a lot of shows on the INA's website! I said that as a joke but it upset some people in France 2, who thought it wasn't right to say that, even though it was not being mean. With me, it's never meant to hurt. I'd rather deal with my problem in front of the people and not by little notes in the press. But no, I didn't call the INA to tell them…maybe I should!
Extract de PureMédias.com
bonus