CONCEPT
This year, Thomas Hugues is teaming up with Alice Antheaume, a specialist in news media, a new columnist, Julien Bellver, chief editor at PureMédias, and Bruno Donnet, Laetitia Krupa and Denis Bertrand.
Every week, Thomas Hugues receives a guest as a star witness on the show, who will give his views on media news.
Laetitia Krupa analyses the press conferences which had the most impact and reaction from journalists during the week. Julien Bellver talks about a new show which will be at the forefront in days to come. Denis Bertrand also illustrates the confrontation of "the week's debate" proposed by Thomas Hugues.
PROGRAMME
Airing Time : every Sunday at 12:35
Broadcasting Channel : France 5
Presenters : Thomas Hugues
Producer : France Télévision
Format: 65 minutes
HOST
Thomas Hugues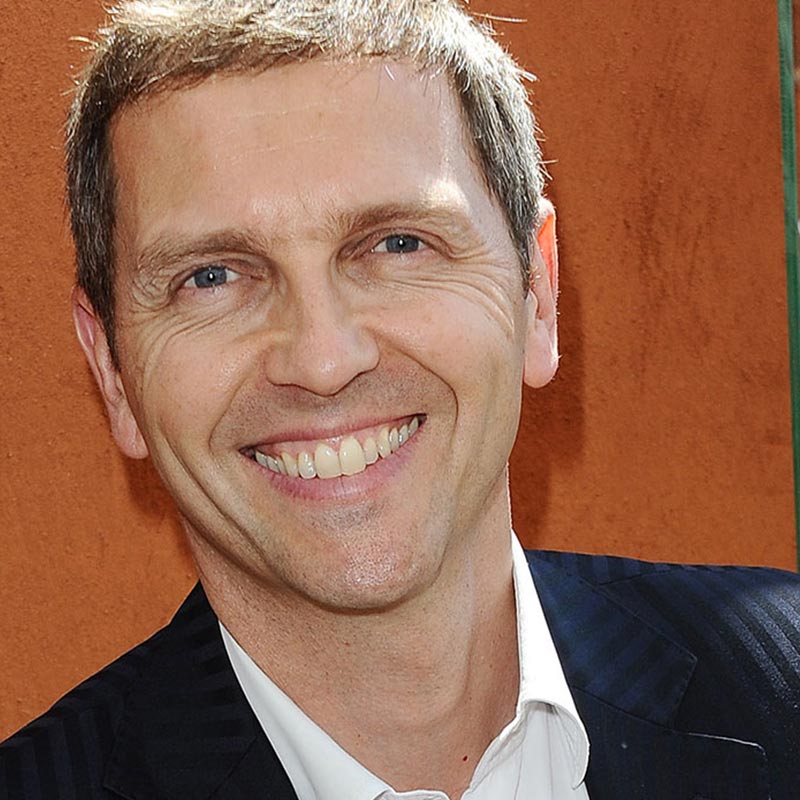 Thomas Hugues studied at the Political Institute in Bordeaux in 1983. In 1987, he entered the Superior School of Journalism in Lille. In 1989, he joined the Society and Reports department of TF1. In November 1994, he presented the morning news on LCI, the information channel, from 6 to 10am. The same year, he became Jean Pierre Pernault's substitute for the one o'clock news on TF1. In October 1997, he was promoted Information Chief Reporter.
In 1998, still on TF1, he took Claire Chazal's spot on weekend news. The following year, he also hosted a campaign weekend against AIDS, along with "Défense d'Entrer", with Valérie Bénaïm, a prime time show that allow you to discover places the access of which is normally forbidden. On December 31, 1999, with his wife Laurence Ferrari, he co-hosted Millenium night on TF1.
From 2000, he co-hosted "Sept à Huit" on TF1, and was editor in chief, with Laurence Ferrari. The show was broadcast every Sunday night at 7 and was awarded a "7 d'or" on November 3rd 2003.
From July 2002, to July 2006, Thomas Hugues was Patrick Poivre D'Arvor's substitute for the 8pm news on TF1, the most watched news segment in Europe, until Harry Roselmack took over.
In February 2006, he presented with his wife a new show in prime time, called the "60 pictures that impressed French people"; it shows the result of a BVA poll on the most representatives 60 news pictures of the past 50 years.
In the middle of June, 2006, TF1 announced Thomas Hugues' resignation. As for him, he claimed that he was fired and filed a legal action for the termination of his contract with the channel. From September 2006, he should have hosted a show with Anne Sophie Lapix, following his wife's departure to Canal +. He should also have been hosting a new show, "Documents Inédits" (the first was broadcast on May 23, 2006 and was about the first face transplant).
In September 2006, he created the production company Story Box Press with Laurence Ferrari and Lorraine Willems.
In September 2006, he joined i>Télé, a news channel, to host "1h30 Chrono", from Monday to Friday between 6 and 7:30pm. From January 2007, the show changed to Monday to Thursday and Thomas Hugues co-hosted, in place of Laurent Bazin, the "Franc Parler", a political show, in partnership with France Inter and Le Monde. From September 2007, he also hosted "Ça Chauffe", a weekly show dedicated to the environment and ecology. He also hosted the electoral night on i>Télé.
In July 2008, Thomas Hugues left i>Télé to "dedicate himself to his production company" along with 13e Rue. In September 2008, he joined the public channel France 5 to host every week "Medias, le magazine", a magazine dedicated to media news.
During the summer of 2011, while hosting his magazine on France 5, Thomas Hugues joined the new channel dedicated to football's first league, "CFoot", to host a magazine, "Culture Foot".
In 2013, he participated in "Toute la Télé Chante pour le Sidaction", on France 2.
In September 2014, he arrived on RTL to host "La Curiosité est un Vilain Défaut", a show he co-hosted with Sidonie Bonnec from Monday to Sunday from 8 to 10pm.
INTERVIEW
Thomas Hugues, what assessment would you make of this seventh season of your magazine?
Changes on the content and the form had a positive effect since we have 20% more viewers compared to last season. In September, we changed the décor, the credits and the design so it was visually like a new show. But, on the content, a single guest throughout the show represents the underlying theme of the show. For example, today, our greatest witness is Franz Olivier Giesbert.
Is there any evolution of media perception since the Charlie attack?
Paris' attack provoked an awareness that went way over the Media. They were an electroshock and a mobilisation never seen before that translates into a desire for change, including in the newsworthy sphere. I'm afraid it won't last. I would take as an example the CSA sanctions against TV Media, after the way they covered the attacks. Instead of trying to find the best solution to cover that type of news, they preferred to accuse the CSA of infringing the freedom of speech. I don't think it was the right answer.
Isn't the trap of a media programme to turn it into staring at ones' self?
It's a risk. Sometimes we can't avoid it, because we only have journalists around the table. So we try to have other lines of work, to have an outside point of view about media, and that can possibly break being self-obsessed
Is your daily show on RTL, "La Curiosité est un Vilan Défaut" [8 to 10pm], helping you to escape that bubble?
It really satisfies my major ambition to do radio. There is no suit or make up there. I feel more spontaneous and truthful to my real personality. It's a show about discovery where, with the talented and wonderful Sidonie Bonnec, we talk about science, history, culture… For example, on Monday, we will be "live" from the Grand Palais for the opening of the Velàzquez exhibition.
Source : LeFigaro.fr