CONCEPT
The programme combines documentaries and debates. A report is presented, followed by a debate with guests.
PROGRAMME
Airing time : le mardi à 20h40
Broadcasting Channel: France 5
Host: Marina Carrère d'Encausse
Producer : MFP
VIDEO
PRESENTER
MARINA CARRERE D'ENCAUSSE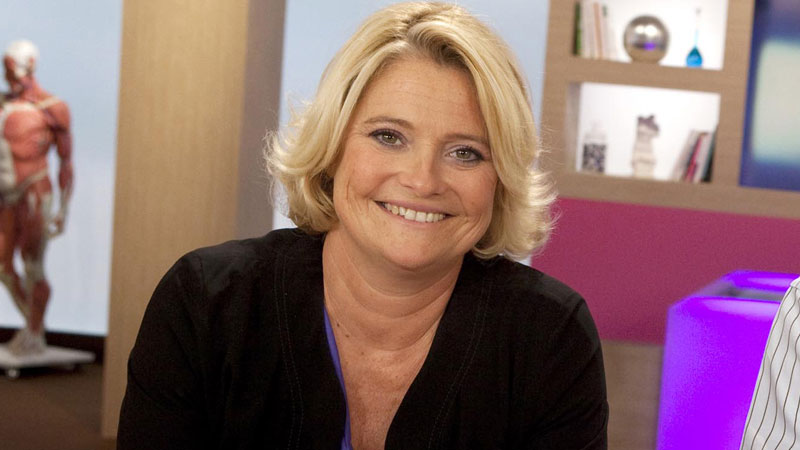 Marina Carrère is a doctor in medicine who graduated in medical ultra-sound.
She began her professional career on TV for "Disney Club" as a reporter on TF1, and in "Paroles d'Expert" on France 3. Since 2000 she has been hosting "Le Journal de la Santé", and since 2004, she co-hosts with Michel Cymes and Benoît Thévenet "Le Magazine de la Santé" and "Allô Docteurs" on France 5. She also participates on Europe 1 radio.
She was awarded the prize for the medical research Foundation in September 2009 by Thierry Lhermitte, the foundation's sponsor. A month later, she co-hosted a Telethon programme on France 2 with Louis Laforge.
Since 2011, she is the administrator of the Bernard Gieaudeau donation fund.
In 2014 she animated "Le Monde en Face" on France 5, replacing Carole Gaessler.
Interview
Family photos on display, Marina Carrere d'Encausse welcomed us at her 17Juin Media agency. She talked about her childhood, her love of books, her three children and the family tree she made showing the Franco-Russian double culture transmitted from one generation to another.
France Dimanche (F.D.): Your first novel "Une femme bléssée" published last October has been well recieved by readers and the critics…
Yes and I dedicate it to my three children Thibault, Lara and Hugo. My want to write a novel came from a long time ago. However, it wasn't simple, between my brother Emmanuel Carrère who's one of the greatest actual novelists, and my mother who is a perpetual secretary to de French Academy. But I just told myself: "Whatever, I'm doing it!"
Were you worried about being compared to them, both being so famous?
I was less worried about eventual comparisons with them than being published even though not knowing how to write, simply because of my status as a public figure and presenter. How dreadful! My big fear was to be told: "Stop this disaster, stop writing books, go back on the "Magazine de la Santé" TV set!" What really touched me was my readers' letters and critics rather than the journalist's: I have had nothing but warm hearted correspondence!
With a Russian mum, what language did you speak at home?
French. My mother, both Georgian and Russian, taught me to read when I was 5, before I started school and she used the quick reading method. When I was a child, mum didn't speak Russian at home. Maybe because of my dad's dreadful accent! Yet dad, who is French, learnt to speak both Russian and Georgian, just to please mum. A very praiseworthy effort on his part because if the first language is very hard to learn, the second is even harder!
Tell us about your childhood and the double culture!
Mum had a lot of Russian guests who spoke Russian. People from the government or the KGB even. I was allowed to attend these gatherings as long as I kept my mouth shut. Our door was always open wide, like in Russia! When my father, who was in insurance, went on a business trip, me, my brother and sister brought our mattresses into my mum's bedroom: we slept four in a room, like in a kolkhoz! Then I was brought up with my siblings by a gypsy woman who spoke a weird Russian.
What about your children?
Thibault, Lara and Hugo have learnt Russian at school as a second language. They weren't very enthusiastic at first but today, they want to pursue their studies.
Do you celebrate Russian festivals at home?
For a long time, beside French Xmas and New Year, we have been celebrating the Orthodox Xmas and New Year at home. They take place a few days later. Today, I have stopped. I don't celebrate Russian Easter which is very important in our culture, and I go to the Orthodox church. As this festival takes place a little later than the Catholic's one, my mum and I always have to plan ahead to prepare the cakes!
Are you a crazy worker?
On the contrary, I am very lazy. If I didn't have an appointment every morning, I wouldn't get up! I would read all day in bed. It would be hell! Besides, I don't want to work at home with the children… But once I am sitting at a working table, I become a hard worker.
Source : France Dimanche