CONCEPT
In this new programme, the team of presenters will interest themselves in activities for the weekend, culture news such as film or festivals, also the latest trends in music. The tag team will also give their advice on interior design and wellbeing in the home. #Weekend, takes place in a pretty little house and touches any topic of interest to help the viewer unwind from the pressures of the week, enjoy it and in the end spoil yourself.
TF1 will start the weekend under a banner of relaxation, shrewd ideas and good mood.
The cooking journalist Laurent Mariotte will suggest some simple recipes to try which are within everyone's grasp. For example, a recipe which uses a seasonal ingredient of the week, always with a clever technique, a good idea from our master chef…
PROGRAM
Airing time : Every Saturday at 10:35
Broadcasting : TF1
Presenters : Julia Vignali; Laurent Mariotte
Producer : TF1 prod
Format : 52 minutes
VIDEO
THE INTERVIEW
What will be the general atmosphere for #Weekend?
Laurent Mariotte: Good humour! We are going to welcome viewers into our home every Saturday morning. We invite them to spend some quality time, hen pick a few ideas thanks to watching the show: where to go, music, cinema, books, exhibitions. To summarise: what shall see, what shall we do and above all what shall we eat this weekend!
Julia Vignali: We will be in that Saturday morning mood, the weekend starts here, we have just woken up… At this time the viewers have the time to watch the show, it's the right moment to decide what to do. The programme has something for everyone, as well as families, especially as it is impossible not to make plans when there are children in the house!
Cooking will be the theme throughout each episode. Laurent, this is your domain…

L. M.: Each week I shall demonstrate a recipe using a seasonal ingredient which I will use in an unexpected way to amuse. The viewers will be able to make the same straight away. At the start of the programme I will introduce the product, with some tips how to make a good choice when buying. Between each topic I will work on the recipe, then at the end I will show a new recipe using the same ingredient by a pre-recorded demonstration.
Julia, on the other hand, cooking doesn't seem to be your strong point.
J.V.: Laurent is going to concentrate on cooking, and as cooking is not my strong point, I will devote myself to the rest, as in real life! I am more oriented towards cultural outings, décor and gardening, trying new sports… I'll try anything. Laurent will also give his opinion on the various subjects.
L.M.: I love the idea that spending an hour watching the tele one will get ideas as to what to do to relax over the weekend.
J.V.: And I'm over the moon because Laurent is going to give me the chance to try great recipes, even for my humble cooking skills!
L.M.: That's my mission, I commit myself to making sure that you can do all the recipes by the end of the month!
Did you know your team sister before making the programme?
L.M.: We've just met, even if I knew of Julia already from her previous programmes. I love her spontaneity and lack of pretention, it fits perfectly with the relaxed atmosphere of the programme.
J.V.: When I announced to my circle that I would be working with Laurent it was then that I realised how popular he is: he has fans everywhere thanks to his recipes which are so practical! I follow closely his work on France Info, because whilst I am not a cooking enthusiast, I do however have a real interest in eating better, one of Laurent's causes.
For you the weekend rhymes with…
L.M.: The shopping and the kitchen! I am a bit obsessed… But also going out, and doing some sport: I run, I swim and I do mountain biking when I am in the Vosges. To be able to eat whatever one wants there is no choice, one has to exercise!
J.V.: Saturday morning is my preferred moment of the week: anything is possible! I enjoy my home… and enjoy being myself! I do a facial and water my plants and move the furniture around, I listen to music, I lock myself in the bathroom but absolutely never in the kitchen, as you would expect!
What are your tips for the coming weekend?
L.M: I suggest two theatre plays: All that you want with Berenice Bejo and Stephane de Groodt and the bitter sweet comedy of Laurent Baffie: Jacques Daniel. As for the kitchen, I would prepare some tomatoes which will be the last of this season, nice and ripe. Make a salad or slowly bake them with spices to be served with fish or a white meat.
J.V.: Next weekend one must not miss the Sleepless Night! Or… as a perfect activity, I would say: go and try a new sport, an outing in a green zone – it's even possible staying in Paris- as for deco, do like me, move the furniture around to have the impression to have moved and get a completely new home.
Extract of an interview Backstage-tv.fr from Jean-Marc Verdrel
Presenters
JULIA VIGNALI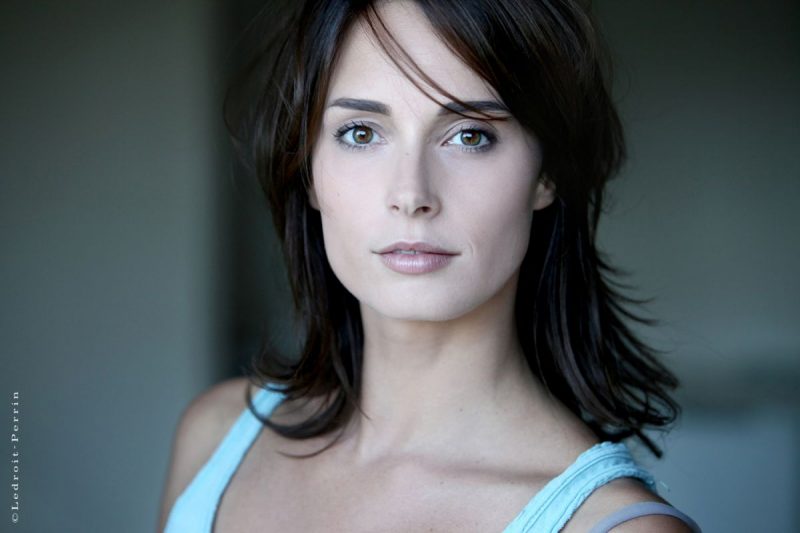 Julia Vignali is a TV presenter and actress.
She obtained a degree from the Superior Commercial School of Grenoble and then got her first job at Universal Music, more precisely at Polydor in the marketing department.
We can also see her on television in advertising clips for Toyota, Yoplait or L'Oreal. Julia Vignali hesitates between being an actress or journalist.
In 2003 she appeared in the TV film La Vie devant nous. That same year we see her in the film Belle ordure of Gregory Morin.
Julia Vignali became known to the public when in 2010 she was chosen to be the weather girl for La Matinale on Canal+ She left the Matinale in 2012 when France 5 invited her to present Maternelles.
In 2015 she became a journalist and presenter on France 5 for the programme C à vous.
She is a journalist in 2016 for the new programme of Alessandra Sublet on Europe 1.
LAURENT MARIOTTE
In 1990, he began as a literary TV magazine animator for children Mille-feuilles on Canal+. From April to June 1991, he presented La Piratévé sketches in the new Youpi! version and L'école est finie on the 5th Channel. Then, the same year, he returned to Canal J to animate Cajou, a 2 hour live daily show targeting children.
Between 1997 and 1998, he co-produced and animated a musical game show Watafon on Canal J.
From 1998 and 1999, he joined TF1 to co-animate the programme Intervilles. In 1999, he animated Attention, les enfants regardent, and in 2000 Les petits princes.
From 2001 and 2003 he hosted the programme Les coups d'humour, then animated Ca vaut le detour from 2002 to 2005 on TF1.
Passionate about cooking, he passed a cookery CAP exam at the Ecole Grégoire-Ferrandi in Paris 1 university in July 2005, with the intention of opening a restaurant, but television caught up with him.
Cuisine .tv offered the animation of 24 minutes chrono, the first cookery programme shown live. Over 300 episodes were recorded.
At the same time, he hosted Cuisine en Campagne, a programme about regional food specialities.
In 2010 he produced and hosted Revisitez vos classiques, a programme adapted from his book edited at Albin Michel.
Cuisine.tv renamed Cuisine+ in 2011, he produced and hosted a new series of 24 minutes chrono in which he welcomed famous chefs to simplify their recipes (Alain Passard, Eric Fréchon, Alexandre Gauthier, Jean Sulpice…).
From November 2008 to June 2009, he returned to TF1 to embody Rock'n Food, the kitchen slot of the programme 10h le mag presented by Sandrine Quétier and Julien Arnaud.
In December 2010, he formed his own production company.
In May 2011, he hosted the cookery game "Un resto dans mon salon" on TMC and in 2012 he presented Jamie Oliver au secours des cantines.
From December 12 to 24th 2012, he produced the daily short programme Petits plats en équilibre on TF 1 and on HD1.
Since September 2016, he has joined LCI & vous beside Bénédicte Le Chatelier every Thursday at 10.30 to defend the concept of eating well and enlighten viewers on eating properly.