« I've always had an association with music; it's a meeting between us, a love story with it and photography. »
Former student at the Superior School of Beaux Arts, he photographed the whole national and international rock scene: from Lou Reed to the Stranglers, but also The Cure, Depeche Mode, Nina Hagen, Bashung, Gainsbourd, Telephone…
He realized during this time a lot of discs' covers: Santana, Buzy, Véronique Sanson…
Then, he met Vanessa Paradis and became his exclusive photographer for 2 years. He did her album covers for Maxou, Coupe and Mosquito.
He also worked with the Rolling Stones, U2, The Clash, Tom Waits, Motörhead, Mink DeVille, Miles Davis, James Brown, and The Red Hot Chili Peppers…
He was an independent photographer who dealt concert photos to rock press and to Libé. He worked for majors, which, at this time, were really riche with the gold that vinyl records were. Pierre Terrasson had thousands of pictures in the archives with a few jewels: Joes Trummer and Paul Simonon posing in Athens in 1985, Mick Jones and the new Yorker street artist Dondi at the Bataclan in 1982, Tom Waits backstage at the Cigale, portraits of Gainsbourg and Bashung. Some more are still sleeping in his drawers.
Web publication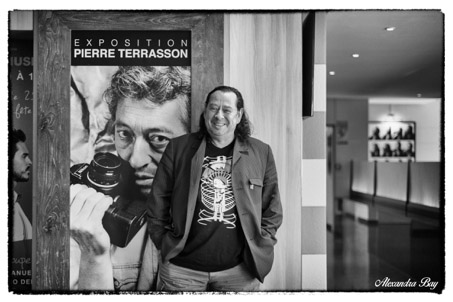 Few musical photographers can say they had the same career as Pierre Terrasson and capture a great part of the rock scene in the 80's and 90's. A rich period and oh-so eclectic in musical creation, Pierre was a privileged witness to the birth of some French bands who left a print in their time (from Telephone to Indochine, and Rita Mitsouko), but also musical scenes such as the batcave or hard rock.
"I've always had an association with music, it's a meeting between us two, a love story with it and photography", admitted Pierre with his deep voice and a big smile. His father, a director at the opera, teaches him at 3 the best composers in classical music. He simply quotes a paternal reference as Richard Wagner. Music becomes then his road buddy, truthful to this music lover, watching him like a star on its protégé. At 14, he subscribes to a youth community in Colombes with some friends as passionate about photography as him, and enjoys a real lab. He goes through a beatnik phase and takes Alan Stivell's photo, a Breton composer at the youth home in Colombes. However, his first try won't lead him to photography. In the 70's, he enrolled in Beaux Arts, and "look for his way for 6 years" on the school's benches. He specializes in mosaic and mural. Is he apart of the avant-garde of street art? Freshly graduated in plastic arts, he goes to Switzerland for a year in order to learn how to restore a piece of art. Upon his return, the city of Paris gives him a workshop in Aubervilliers where he teaches photography and drawing for a year.
But freedom calls for Pierre, he needs to live fully. It's music and photo that will allow him to have this chance. He takes his camera, goes into the street and captures daily instants with his painter's eye – that explains his likelihood to use the square frame – "it was a need to live, it became a job then, because I specialized in music…" told Pierre, "I made a choice to live with photography".
Pierre like to meet people, and big personalities, he works with some monthly rock magazines such as "Best", "Rock and Folk", "Rock in stock". His pictures are selling and his career is launched. It was long before numeric, magazines paid pictures and photographs could capture the best instant of a complete concert.
The 80's are great years for French music and argentic photography. Pierre says with regret "the numeric brought gratuity… the end of the 90's decided that photographers were a pain for the audience… what was a pain was that they were impossible to manage and that they sold their pictures everywhere, it was a miss for the band… no more copyright, and some photographers were bad and did whatever they wanted… when you take some flashes in the eye during 2 hours, it must be annoying… I guess".
In 78, he works mainly for "Rock in Stock", a monthly magazine, specialized in black and white; he strolls with his argentic camera around Mogador and pictures the great composer Serge Gainsbourg live with the Bijou band. And, in 1984, he assists JY LEGRAS, photographer of Best during a portrait of the singer. Gainsbourg who is also passionate about photography owns the same Nikon F2-24mm Pierre has. They talk about their same passion, the feeling goes both ways and will give birth to a great collaboration that will last for years – until 1991 – and will see some beautiful series of picture of the singer. Pierre talks about those encounters at Serge's with tenderness when the composer plays Chopin at the piano. It's not only photo collaboration, nor a friendship; it's an unusual relationship. What Pierre likes is how Serge Gainsbourg gives attention to others, whoever they are, from his "lil' buddies and lil' girls" who whisper at his door "Serge, are you here?" and with who he talks. "It was generosity incarnated" concludes Pierre.
In love with music, Pierre foes between several musical stages without any difference, still feeling a real fascination for them all. To Pierre, rock isn't just a clothing style, it's a way of mind and it's his, he describes it with passion "I felt like taking rock pictures in the 90's of Dorothée for example, could seem weird but it didn't change my way to photograph" – or, for example during ten years for Hard Rock magazine, that he talks about with fun "I found it really funny, because to me it was Valkyrie! I didn't listen to this music but on the visual side… it was some giants like Iron Maiden with his monsters… it was a competition to have the weirdest look".
Pierre evokes then the blessed period "In the 80's, we did a concert a night, there was nothing to miss, clip shootings, hotel meetings. English and Americans came a lot to Paris. There was only 10 concert photographers in France, I had friends in STILL agency, the HAMON brothers… it's only later, at the end of the 80's, that I got an assistant who carried the lights, the covers, we arrived at the hotel and we had gaffer to paste everything. Photography became more sophisticated because TV press asked for clean pictures, it wasn't our habit, and we were more in a king of cheap pictures like the Ramones"
Pierre is curious; he needs to feed his photographer's eye and his musical ear. So, in 82, he takes his little family and drops his bags in the English countryside. Always with his friend George Amann, also photographer (specialized in hard), they evolved in the underground London. Punk is dead, but they witness the birth of a new musical scene at the Batcave club. Pierre's pictures are in black and white, raw, and show a youth without concession devoted to black romance.
He suggests a photo report on this new musical scene and The Cure to Liberation. Bruno Bayon, a fan of Robert Smith, published an article on the Batcave and later, a complete article on The Cure with a cover by Pierre. "Bruno Bayon, Serge Loupien, Philippe Conrath and also Remi Kolpa Kopoul – who will become RKK for "actual" and is now on Radio Nova – decided everything at Libé, they had articles in advance and I proposed pictures to go with, it rolled or it fell… but at least, we could propose reports. On the culture side, it was a family thing, the topics were a lot more sharp." It was before photo departments, journalists had weight and took risks.
But Pierre needs to "jerk off", each picture is a real encounter and every new rules imposed to musical photographers break him. It's a meeting with Vanessa Paradis that will lead him to another type of press.
A rock photographer meets a future star at Polydor towards the end of the 80's. "Rock News" orders a portrait of this young adult to Pierre, she is 15 and will have the destiny we now know. After her album "Joe le taxi", he becomes her official photographer et realized every portrait of the Lolita. He found his muse. The photo production was enormous, album covers, magazine covers, TV press, and clip shootings. The young girl has a total confidence in him and let him handle her photos. He drives her to the North of France and realize a beautiful picture of her, in an ancient church, a friend's workshop Pierre Bourquin. On this amazing picture, we can feel the young and sophisticated "rock" girl being born, an image that she will master beautifully during her love story with Lenny Kravitz.
Pierre keeps his Vanessa's memorabilia in his book "My Lolita Years", published by Premium. When the girl meets Gainsbourg, she changes team and goes on, without a look for the past. Despite this brutal breakup, Pierre keeps a great memory of this collaboration and is proud to make her discover the old Lou Reed.
Pierre is always looking for new muses to photograph and keeps evolving on "free" musical scenes, he appreciates photographing in little club because "nobody's on your back". He collaborates with new signers such as Demi-Mondaine, Ysé, Gloria Sometimes but also Alain Bashung's wife, Chloé Mons…
After living 35 years with live & studio photography, Pierre published numerous books tracing the 80's. He exhibits his emotional pictures to the youth who loves these musical scenes and sells to fanatic collectors. He starts to realize the luck he had to be there at the perfect time and keeps his argentic like a treasure.
"The argentic is the creative instant, the path was long and human. Between taking the picture and its publication, you met 10 people. You went to the artist to look at the collection, it helped become friends, and then, you worked with labs and magazines. They were real encounters. Now with numeric, the instant is immediate, people judge on the spot, a mistake stays… you don't have a time to process… because of the right to check, everybody interferes instantaneously. The artist can make you throw away a picture because they don't like it, and it's not what they would have done. You give it to Facebook or send it to a magazine via numeric data. You don't meet anyone. Real tracks don't have to be with an instantaneous analyze, you should come back to the pictures… I kept pictures that weren't accepted by artists and I published a book with them." Explains Pierre the experienced now.
Since the beginning of June, Pierre exhibits a selection of his best musical pictures in Atlantis Hall, just right next to TF1; you can come and see Gainsbourg, Vanessa or the greatest rock musician until September 15th.
He is also preparing a book with the writer Didier Daeninckx ( Hugo Editions). A book showing the most important events in the 80's, like the Palace years or the Catacombes and SOS Racism. This book will be called "80's LE GRAND MIX" and will have a sulfurous preface by Alain Maneval.
By AB
Info about Atlantis Television
As a producer of audiovisual content, Atlantis Television is happy to help promote cultural events, to lend its space in order to promote and shine a light of artists' creative minds. We are proud to associate our name to Pierre Terrasson today.
Exposition May 22, 2014 and during the summer to
Atlantis Télévision – HALL
38, quai du Point du Jour
92100 Boulogne-Billancourt