CONCEPT
The presenter, Grégory Cuilleron, meets Chefs in various countries to explore local cuisine. He wishes, in return, to have them discover French gastronomy, but more importantly, he meets the challenge of mixing both cultures in the same dish.
Grégory Cuilleron is both inquisitive and likes gastronomy. During his travels or stop overs, he is guided by a chef who shares his contacts with him, but also allows him to meet ambassadors of local gastronomy. In exchange, Grégory Cuilleron invites each person he meets during his journey for a meal, and gives them a few recipes on the way.
PROGRAMME
Airing Time : Every Thursday at 8:40
Saison 2: In progress
Broadcasting Channel : France 5
Presenter : Grégory Cuilleron
Producer: Terminal 9 Studios
Format : 52 minutes
Host
GREGORY CUILLERON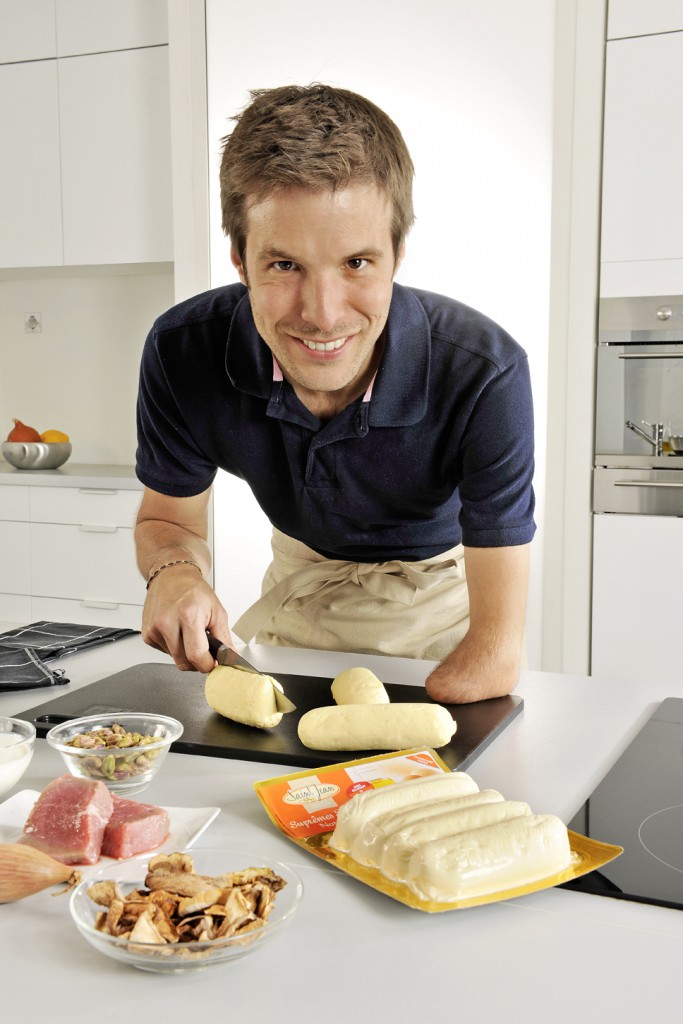 Grégory cuilleron was a winner of "Un Dîner Presque Parfait", broadcast on M6. Later, he took part in "Top Chef".
From January 2010, he was a chronicler for "MIAM: mon invitation à manger" presented by Cyril Lignac still on M6.
In 2010, he became the ambassador of the Charity Fund for the professional insertion of handicapped persons.
This cause is very close to his heart as Grégory Cuilleron was born with an agenesis of the front left arm. Besides, he is a sponsor for the ASSEDEA (Association dealing with studying and helping agenesis persons.)
In 2010, he wrote a recipe book with M6 Editions: "Dans la cuisine de Grégory".
April 2011, he opened a restaurant-grocery shop named "Epicerie&Compagnie".
In 2012, he took part in "Pekin Express" as a mystery passenger.
Interview
Interview with Grégory Cuilleron
What is different with La Tournée des Popotes, compared to every cooking show we see now?
Until now, in the shows combining cooking and traveling, we discovered some local recipes, but there was no sign of French gastronomy. Here, there's that willingness, that you can't find anywhere else, to mix both cultures. Thanks to passionate people curious about what's going on abroad, we learn a bit more about some countries.
And your hosts can taste some traditional French meal because of you…
Yes, and I'm not so nice with them! I really try to use ingredients that they're not used to eating, like raw meats, snails, frogs, strong cheeses… it's kind of revenge too, because sometimes I find myself eating eyes, testicles or brain… It's not always fun.
In the end, you are testing yourself and your acolyte?
We try to mix recipes without talking about it beforehand. The mixtures are not always obvious, but we've not had any catastrophes yet. Then, a lot of people taste the "fusion" dish. It is a way of sharing.
Why did you choose this title, "La Tournée des popotes"?
We wanted to have a notion of travelling. And we are cooking some simple recipes that viewers can reproduce at home. Beyond the French expression related to the military, the word "popotes" contains "pote" (mate). And it really is a story about friends, with simple relationship and shared conviviality.
Is cooking a way of communication when you don't speak the language of the country?
Cooking is like classical music. It touches people directly in the heart.t.
How did meeting chefs go?
I haven't seen them before the shooting in order to keep some spontaneity. What is really nice with this show is that there's no set priority. On the meals we taste or on the people we meet.
What ingredients marked you the most? ?
For example, the powder made from dill grains in gravlax in Iceland. It's a well-known meal, but with a wild salmon and a spice mix I wouldn't have thought about, it's exceptional. In Portugal, I discovered amazing olive oils. In Mexico, roasting corn flour for a recipe, we found a grilled toast flavour. These are basic products, but a quality I didn't know before.
We knew you were passionate about cooking and we see you're a fan of traveling. It's the perfect mix for you!
Don't say it too loud, they will think I'm going on vacation, and they'll never pay me! (Laugh)Since I'm old enough to travel, I like to take my backpack and go where the wind takes me, following different advice and routes. With cuisine and human contact, there is in "La Tournée des Popotes", the three ingredients that suit me perfectly.
If we had to compare this show to a recipe, what would be the ingredients?
« La Tournée des Popotes », it's all about dynamisme, sharing, tradition, innovation, discovery and pleasure.
Sources : France 5