CONCEPT
Every day in Petits "Plats en équilibre", Laurent Mariotte gives the viewer a tip on a seasonal ingredient. He delivers little secrets and good tips to choose the right ingredient, keep it fresh, and prepare it with taste and originality. He offers us daily recipes which are simple and new to enjoy.
PROGRAMME
airing Time : from Monday to Friday at 12:50 and 13:50
Broadcasting Channel : TF1
Presenter : Laurent Mariotte
Producer : TF1 PROD
Format : 2 minutes
VIDEO
HOST
LAURENT MARIOTTE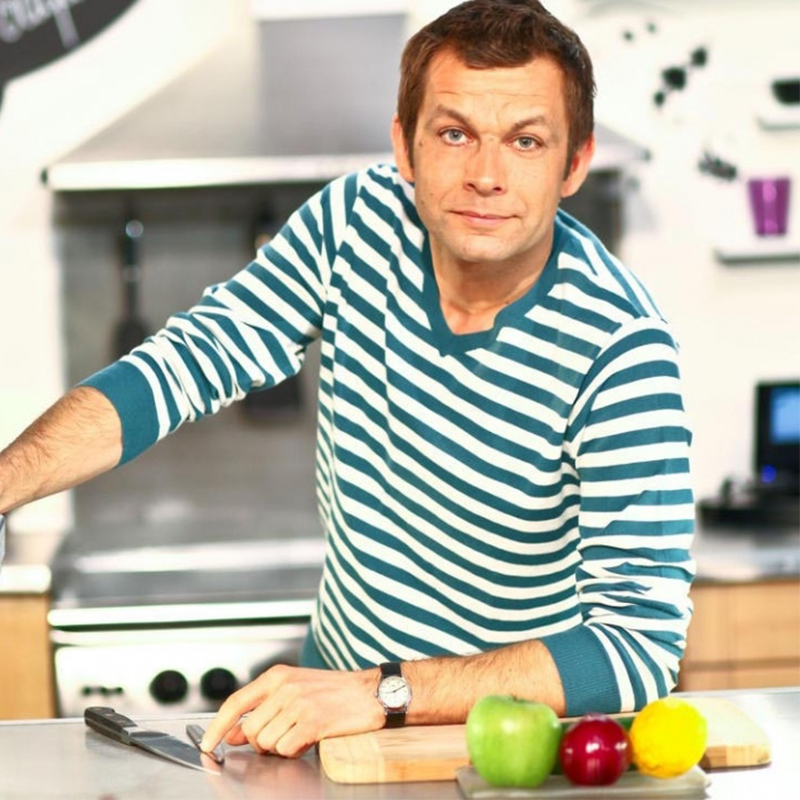 Laurent Mariotte is a French culinary journalist. From April to June 1991, he began on television, interpreting funny scenes in "La Piratévé", in a new version of "Youpi! L'Ecole est finie" on La Cinq. Then, the same year, Laurent Mariotte hosted his first show live on Canal J which is named "Cajou". He will host it daily for 7 years. In 1996, he became a columnist for Europe 2, addressing young parents. Between 1997 and 1998, he coproduced and then hosted a musical game Watafon, still on Canal J.
From 1998 to 1999, he joined TF1 to co-host "Intervilles". In 1999, he hosted "Attention, les enfants regardent", and in 2000, "Les Petits Princes". From 2000 to 2002 he hosted daily "M comme Mariotte" on MFM radio. From 2001 to 2003, he hosted "Les Coups d'Humour", and then "Ca Vaut le Détour" from 2002 to 2005 on TF1.
In 2004, he played in an episode of "Sauveur Giordano", on TF1.
He also became a columnist on Teva, in "Teva en Parle", with Anne de Petrini.
Passionate about cooking, he obtained a cooking diploma on July 2005 in order to host the culinary show "24 minutes chrono", on Cuisine.tv, where he cooks a dish in real time.
From November 2008 to June 2009, he returned to TV, hosting the cooking column in "10h le Mag"on TF1.
He presents a daily short program with "Petits Plats en Equilibre" on TF1, and also live, in December 2012, the daily show "Les petits plats dans les grands"
Since September 2007, he is a columnist on France Info where he hosts "A toutes Saveurs" every Friday and Saturday. Every summer, he also goes to discover some new chefs everywhere in France for France Info.
INTERVIEW
After Cajou on Canal J, or Interville on TF1, you finally decided to be a culinary host… In 2005, you even obtained a cooking diploma at 35 years of age!
Yes, at the superior school of French cuisine in Paris. I wanted to master the subject.
What makes the Mariotte touch?
Delicious meals, which are healthy and easy to make.
Hard to eat well without spending a fortune …
Not if you use seasonal fruit and vegetables, such as broccoli, or cauliflower at this time of year. That's what I'm offering in "10h le Mag", two and a half minutes for a quick and easy recipe. And in "Petits Plats en Equilibre", it's all around one product. My cooking is anti-recession!
Do you have any recipe examples?
Curried leeks, shredded cabbage with Mirabelle plums, potatoes with cream cheese…
Where does this passion come from?
My parents, farmers in the Vosges, transmitted to me their love for authentic products. I inherited my grandmother's farm where I grow my own tomatoes. Today, I'm transmitting this love to my son, who's 8. Not long ago I cooked a casserole of "forgotten vegetables": parsnip, crones, Jerusalem artichokes… I was really proud of him because he recognised many!
You also are on "CuisineTV"…
Yes, for a 24 minutes live show. And I'm a columnist on France Info "A toutes saveurs". It's the perfect time to tell the cucumber story, born in the bottom of the Himalaya, or to suggest a chocolate mousse, with ginger, red and green peppers and chili: an aphrodisiac blend!
Source: 10h le mag