CONCEPT
The six candidates of the show "La Belle et ses Princes presque Charmants" haven't found love. They are reunited in a new show "Les Princes de l'Amour" to hopefully find their soul mates.
For several weeks, they are going to live in a villa where they will meet different hopeful young girls who had a crush seeing their portraits. Each prince will have two prospective companions a week. At the end of the week, they will have to eliminate one of them who will be replaced by a new one every Monday.
For this 4th season of the Princes of Love, 6 new bachelors are entering the adventure. 6 boys who have one goal: to find love. This year, we have the knowledge of the "Séducteurs": Adrien, the beautiful sportsman and Julien, the model from Los Angeles; Pretenders: Benoît, the rugby enthusiast and Brandon, the lumberjack of modern times. Finally, the "Atypics", Christmas, the maniac Ch'ti and Julian, the Gipsy macho.
PROGRAMME
Saison 4: Monday Novembre 14th 2016 at 6:50pm
Saison 3: Monday November 9th 2015 at 6:50pm
Saison 2: Monday November 10th 2014 at 6:50pm
Saison 1: Monday February 28th 2014 at 6:50pm
Broadcasting Channel : W9
Producer : Studio 89 Productions
Format : 35 minutes
teaser saison 4
LES PRINCES DE L'AMOUR SAISON 1
L'INTERVIEW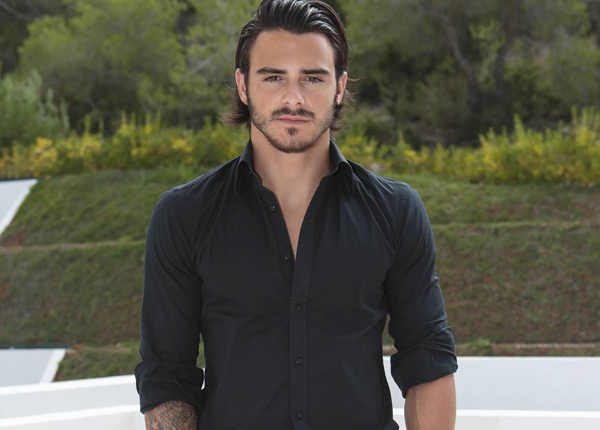 Benjamin participant in both first seasons of "Les Princes de l'amour":
What did you do before TV?
Before participating in "La Belle et ses princes" I was a bartender in a nightclub. I also worked on great events such as Euro Pride when they needed waiters.
How were you cast on the show?
At first, a casting director scouted me during a pool party in Marseille. It was to do the first season of "Les Marseillais". The problem was that I wasn't old enough for the US. The casting director kept in contact with me. After this, I tried for the second season of "la belle et ses princes" and was chosen but a few weeks before the beginning of shooting I had to refuse because I wasn't sure to be able to handle critics. So the casting girl called me back for the third season telling me I could manage my image the way I wanted, play a character if I wanted to. So I accepted and I don't regret it at all!
How were you approached for "Les princes de l'Amour"?
The night I got out of the show with Giuseppe in "La Belle et ses Princes", when Jade eliminated us like we were nothing. I was packing when the producer came to see me, asking if I was all right, not too disappointed etc. Of course, I was really sad and close to tears. She told me to go home for a few days and to join her in Ibiza for the shooting of another show, and, funnily enough, I packed faster! As I knew right after my elimination, I had some time to enjoy my family before going away, so it was nice.
Which show did you prefer?
The shooting of "La Belle et ses Princes" was very short, it seems long when you watch it on TV but it's short. We, the seducers have stayed almost a week. So it's true when Jade said "I consider all of you as friends", we didn't have so much time to be with her. But I really don't regret it at all because I met some really beautiful people.
But it's "Les Princes de l'Amour" that I loved! I stayed a month in Ibiza, I met Florian and some girls came for us. Roles were reversed and, of course, we enjoyed it so much more!
So you stayed in touch with some of the candidates?
I stayed really close to Flo, Giuseppe and I love to see them every time. That's why I often come to Paris!
Did you find love?
Maybe, maybe not. (laugh).
If someone offered you to participate in another reality TV show, would you accept?
I've been offered to do some more. For now, I don't really think about it. If it comes, it's cool, but if not, it doesn't matter. I'll get back to my normal life.
But if it can help me find a job in TV without being in reality TV, for example behind the camera, it wouldn't bother me. To go on shootings is really something I enjoy, however it's as a candidate or a production member. It's amazing, so if someone offered me something like that, I wouldn't refuse.
What are your good addresses?
I have so many!
We just got out of "Black Ink Story" situated 17 bis rue Voltaire in Levallois-Perret, it's a tattoo shop. We were really nicely welcomed; we loved it.
"The Vendôme", at 9 rue Daunou in the 11th district is a really great nightclub where we were invited with Flo. So I take this opportunity to salute them and say thank you.
And in Marseille, of course, "The Box" on 3 rue St-Saëns in the 1st district, where I work, where all my friends are. It's where I am on Saturday nights.
Can you give us a perfume, a man, a woman, a city, an object, a motto?
Perfume: Pi from Givenchy
A man: David Beckham
a woman: Kristin Kreuk
An object: a sex toy!
A motto: "Carpe Diem"

What about your projects, your fancies?

For now, it's just to enjoy everything that happens to me. We have some dates for a tour in some nightclubs.
Once the fame goes away, I'll look for something more stable.
Source: The Smart Girls Blog
Source: The Smart Girls Blog